Contents
15 Years and Counting – Congratulations Brant!
Rural Hospitals Declaring Their Independence
Join us for Don't Go It Alone: Direct Contracting and Custom Networks Change the Game
---
15 Years and Counting- Congratulations Brant
HealthSure CEO Brant Couch celebrated his 15th year with HealthSure in late June. To mark the occasion, Headlines editor Jennifer Bartley caught up with Brant for a quick look back and a look forward.
JB: Over the past 15 years we've seen a lot of changes in rural healthcare. What stands out the most for you and why?
BRANT: Rural hospitals are increasingly under threat from all sides. But the good news is things like decreasing populations and reimbursement are causing rural hospitals to be more innovative than ever. For example, hospitals are more willing to collaborate with fellow rural and tertiary hospitals. Going it alone doesn't seem like an option anymore. I always believe we should build on our strengths and the resilience of rural communities and those leading community hospitals is second to none. Looking to others for shared wisdom and leveraging collective buying power only makes sense to me. Being fiercely independent while at the same time collaborating may sound like an oxymoron, but I'm seeing it more than ever with our rural hospitals.
JB: Looking ahead, what do you think are the most important trends rural hospital leaders have to be aware of and be prepared to manage or take advantage of?
BRANT: Increased collaboration is, of course, #1. But, turning risk into an asset is a very close second.
This concept is not new, but it has not yet been fully embraced by rural hospitals. Healthcare might be one of the riskiest businesses in the country and being in a rural setting can make it even riskier. We see the best hospitals (the top 20 and other award winners) adopt a strategy based on the belief that when it is well managed, risk is an asset. They then invest in themselves instead of the normal pattern of letting the big insurance companies profit by dictating premiums and where employees can go to seek care. This shift is empowering innovative thinking around building custom networks or direct contracts to engage local employers and drive more patient revenue. That's truly turning risk into an asset.
Also, I believe the future will be brighter for hospital boards who purposefully improve the quality of their leadership team (CEO, CFO, etc). If you look at the hospitals that are closing it's often because leadership wasn't able to adapt to a changing economic and regulatory environment. And, sometimes, because they don't fully trust executive leadership, the board doesn't give leadership the autonomy to execute on tough decisions. This becomes not only a Board problem, but also a community problem. It's hard to correct, but it's vital to the future of rural hospitals.
JB: Who, in the past 15 years, has provided you with the most inspiration for continuing the work you're doing?
That's a hard one. Besides my father – who has been my mentor and business partner this entire time – I'd have to say hospital CEO's like John Henderson, Rebecca McCain and Robbie Dewberry. All three have really embraced collaboration and the opportunity to turn risk into an asset. They continue to push the envelope to improve hospital performance without losing site of the community vision. John especially inspires me because he took a leap of faith and moved his family to head up a rural hospital association after running a hospital for many years. It's people like John, Rebecca and Robbie, those who go way beyond just making a nice career for themselves, who are really making a difference in the lives of people in rural America.

---
Rural Hospitals Declaring Their Independence
A Fresh Look at Health Insurance Cost Management
I've been thinking and writing about insurance codependency for a couple of months now.
When you look at the history of employee health benefits, since 1970, with a few rare exceptions, employers have been paying increasingly larger premiums to big insurance companies to cover employee healthcare costs. And, again with a few rare exceptions, the value employers and their employees receive for those premiums, has been slowly whittled down.
When I took a closer look at why increasingly expensive health insurance isn't having a significant positive impact on employee health and well-being, I realized the relationship between big insurance and employers has unintentionally become codependent. For many rural hospitals reclaiming their independence has become a call to action.
What is insurance codependency?
A codependent relationship is dysfunctional. It occurs when one person's self-esteem and happiness is completely tied up in another person's wellbeing instead of their own. Codependency involves unhealthy, enabling behaviors.
Insurance codependency maps a similar dysfunctional relationship between the insurance company and rural hospitals.
By letting insurance companies manage their risk, rural hospitals leaders are giving away some, if not all, responsibility for their employee's wellbeing and, by reason, the financial wellbeing of their hospital. Rural hospitals get premium increases, reduced benefits, and increasingly strict terms and conditions. But despite this, rural hospitals continue to enable their codependent by dutifully paying premiums.
Declaring Independence
Again, turning to clinical psychology, breaking free begins with taking stock of your own behavior, not the behavior of the person with whom you have this type of relationship.
Are you resisting change? Are you willing to declare independence by reclaiming control of your risk? Are you ready to collaborate with other rural hospitals to regain your independence?
New insights empower greater control
Taking a clear-eyed, hard-nosed inventory of what's happening and how we got here can be tough. I've seen time and again that a fresh perspective helps. While cost control is an essential survival and success strategy, a growing number of leaders are broadening their perspective by looking for new ways to get the best possible return on their investment in employees.
The notion that employee benefits are an investment, not just an expense, is leading some to question the traditional practice of transferring risk by buying insurance. Cost control alone focuses primarily on the annual insurance bill. As we have all seen, this has led to relentless annual premium increases and to what many recognize as a benefits death spiral.
Think about it, insurance companies artfully manage your risk. Taking a page from their book, you can empower greater control by embracing the philosophy that risk is an asset.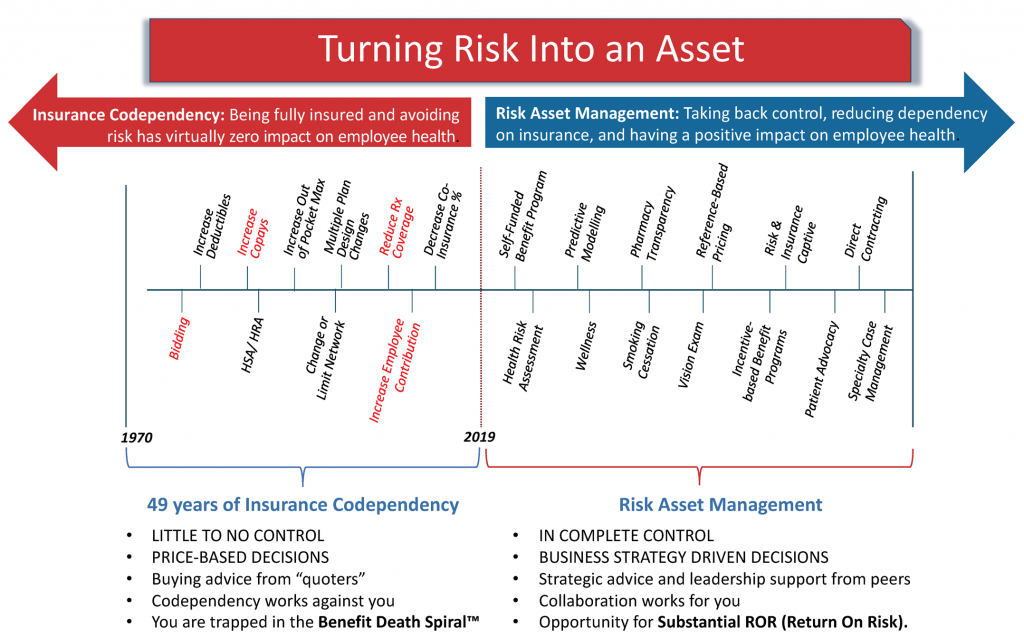 Turning risk into an asset
This diagram presents a pathway from insurance codependency to empowered control by turning risk into an asset. You will notice there is a critical waypoint near the middle of the diagram that hinges on becoming fully or partially self-funded. It's at this point codependency breaks down because it's where you begin to gain control of the information you need to understand your risk and, more importantly, manage your risk.
When you believe risk is an asset, then you have the opportunity to manage it just as you manage any other asset. This leads to the second step: in order to effectively (profitably) manage risk, you need access to information. When you declare your insurance independence you will have access to the information that you need to evaluate to reduce your risk.
Time to break the cycle?
When you look at the diagram above, can you spot where your hospital sits?
Are you on the codependency side? Are you ready to reconsider how you've been addressing employee benefits?
You will notice that many of the strategies appearing on the right-hand side of the diagram are aimed at improving employee health and awareness of what they can do to be better stewards of their healthcare dollar. These strategies empower employees to take control of their health by making better lifestyle and healthcare choices.
With a fresh perspective and the knowledge that your risk is an asset you can manage, comes the opportunity to declare insurance independence and take control.
Independent, not alone
At HealthSure, we have played a part in leading the charge away from insurance codependency within the rural hospital leadership community by encouraging collaboration between rural and community hospitals, exploring and introducing new strategies for taking back control and looking at innovative ways to manage risk.
Checkout rhiaprogram.com to learn more about how we are helping rural and community hospitals collaborate to declare their independence. Check out our recorded webinars that explore and explain how some of the nation's Top 20 rural and critical access hospitals have escaped insurance codependency.
If your hospital is ready to declare its independence, please contact us.

---
Join us for Don't Go It Alone: Direct Contracting and Custom Networks Change the Game
TORCH Fall Conference
Wednesday, September 11th at 11 am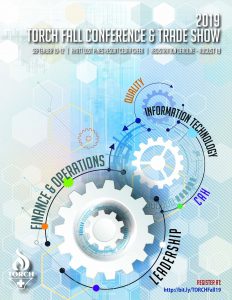 Moderator:
Brant Couch, CEO, HealthSure
Panelists:
Jeff R.Turner, FACHE, CEO, Moore County Hospital District
Stan Self, CEBS, Nx Health
When you stop competing and start collaborating with other hospitals and employers in your region, you never have to go it alone, and your hospital can reap the benefits. Collaboration doesn't end there. TORCH member hospitals have proven that collaboration can also extend into the community. By setting up direct contracting relationships with major employers, they are able to increase and/or protect their revenue while delivering high quality care. This can include tertiary partners that can drive down costs of your own health plan.
Learning Objectives
How to identify high-potential direct contracting opportunities
How to initiate and manage negotiations with employers
The key components of creating custom networks by region

---
Have You Seen This Person!
We're Looking for A Players!
Our purpose is to help healthcare organizations succeed in the increasingly complex world of risk and insurance, and we need to add more "A players" to our team to support the growth of our organization.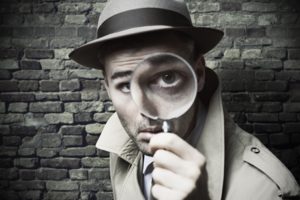 Please be on the look out for the following positions:
HealthSure offers flexible work arrangements, a strong culture of empowerment, teamwork, and support to advance your career.

---
Small but important print
This communication is designed to provide a summary of significant developments to our clients. Information presented is based on known provisions. Additional facts and information or future developments may affect the subjects addressed. It is intended to be informational and does not constitute legal advice regarding any specific situation. Plan sponsors should consult and rely on their attorneys for legal advice.
©2019 HealthSure. All Rights Reserved.